Questions? Call 408-596-9475
ContactHero Product Blog
News, sharing, tips and tricks about Contact Hero from the creators
---
Don't miss a call again. See who you need to call at a glance. Using www.contacthero.com you can schedule calls with reminder alarms linked to contacts. Works with iOS and Android.
We just completed some work to link better with Google Calendar. You can easily create push your calls, one by one or all that you create, into Google Calendar as meetings. Meetings created in Google calendar have a link back to the original call on contacthero.com. Finally, any meetings in Google Calendar will show in your Calendar on Contacthero.com.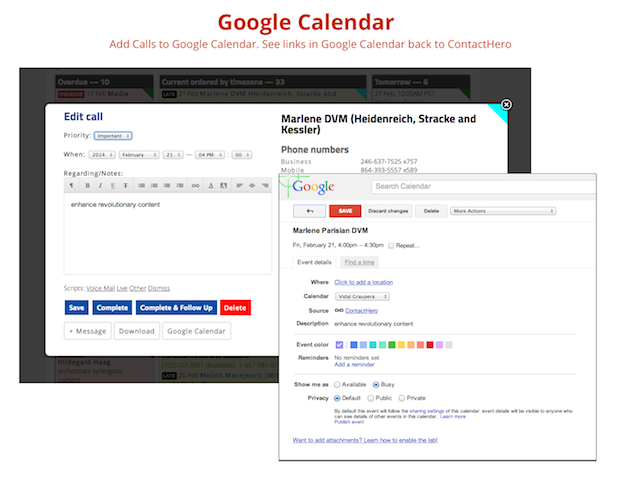 To get started, either sign up for an account using your Google account, or if you already have an account visit your account page and click "Linking to Your Google Account"
Give it a try!
Don't miss a call again. See who you need to call at a glance on your wrist using your Pebble smartwatch. Works with iOS and Android.
Syncs with your list of calls on contacthero.com. You can see each call and also mark calls as complete.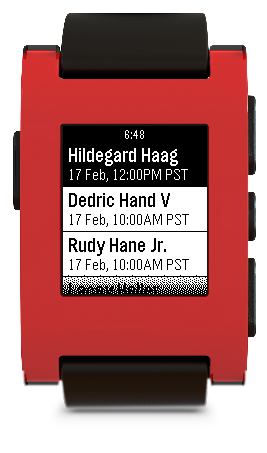 Available on the Pebble App Store
or
Direct link
Now you can quickly see all your calls visually by timezone. Your list of current calls is also ordered by timezone so you can immediately see which customers you should call first during the day!
The list of colors is as follows:
| Timezone | UTC offset | Color |
| --- | --- | --- |
| Atlantic | -4 | |
| Eastern | -5 | |
| Central | -6 | |
| Mountain | -7 | |
| Pacific | -8 | |
| Alaska | -9 | |
| Hawaii | -10 | |
The timezone is inferred from the area code of the phone number of the contact that is linked to call. Calls to 800; 866; 877; and 888 always show in your timezone. This works only on calls logged to US and Canadian phone numbers.
Version 2 is completely re-written from the ground up for iOS 7.
FEATURES
Schedule calls with reminders linked to contacts.
Attach multiple timestamped notes to each contact
Works with the address book already on your phone.
Adds additional fields and flags to contacts to organize them
Color code contacts (by personality type)
Cloud sync with push notifications is available for in app purchase.
https://itunes.apple.com/us/app/contacthero-2/id706682888?ls=1&mt=8
Now you can color code your contacts with 1 of 4 different personality types. Use the HERO identifiers is to help you to remember the best way to communicate with people.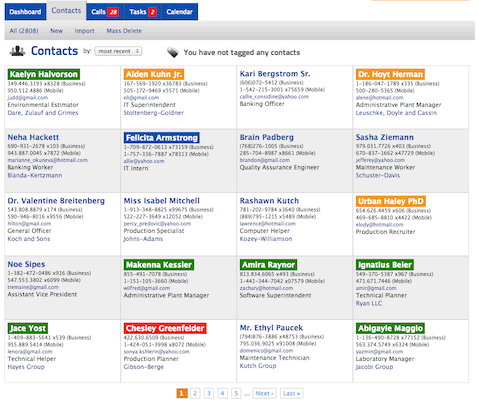 A new more flexible and secure login system deployed tonight. However, this will require all customers to reset their passwords the next time you log into contacthero. You will also now be able to login using your Facebook or Twitter credentials if you wish. Sorry for any inconvenience.
ContactHero is now available at the Google Chrome Web Store.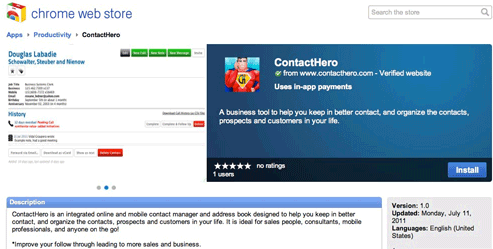 ContactHero lets you share contacts between accounts. Previously, all contacts where kept separate between accounts. This feature is enabled for all accounts including 30 day demo accounts.
Now you can keep a common address book across members of your organization.
To turn on shared contacts, go to My Account and click "Turn on shared contacts". Contacts between different accounts in ContactHero are shared by creating a group (aka "domain") and inviting users to a group.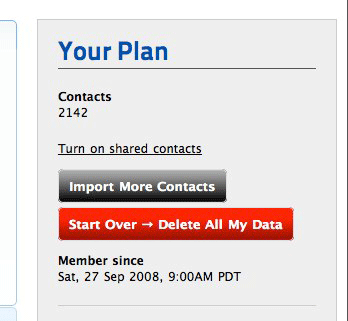 Set a name for your group, e.g. "My Company", and start inviting other users by email address. If they do not already have an account, they will be sent an email to create one and once they do will automatically be set up to share contacts with your group. As the group owner, you can add or remove users at anytime, and there is no limit to the # of users you can have in a group. You can also make other users group owners which will allow them to invite other users. Only group owners can invite or remove other users from a group.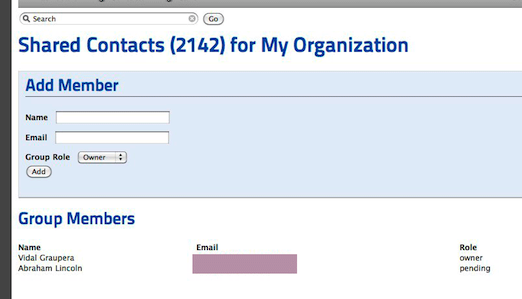 All users in a group can search, edit, update and delete shared contacts. They can also schedule calls, add notes, and view the complete contact history for any shared contact.
Once you turn on shared contacts or join an existing group, you will see in your account the # of separate contacts you have, as well as the # of shared contacts in your group. Your contact list and list of calls will correspond to any separate contacts you have plus any shared contacts.
You can convert all your existing contacts to shared contacts by clicking "Convert All to Shared Contacts" next to your number of separate contacts. You can also choose to have all new contacts shared by setting "New contacts are shared by default". This option is set to on when you enable shared contacts. Turn it off, if you want to keep some contacts separate.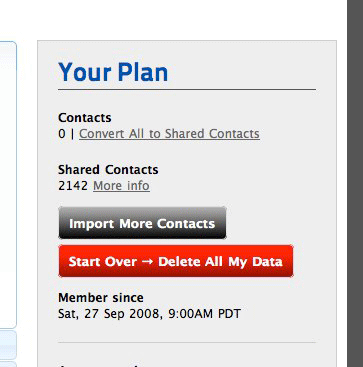 If you are running the ContactHero iPhone app, you do not need to do anything special. Once enabled in your account, shared contacts will appear on your iPhone device just like any other contacts.